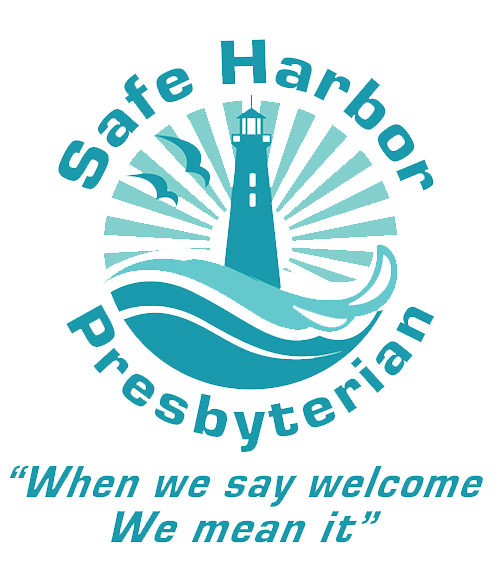 Daily Scripture and Prayer Nov. 7 – 28, 2021:
Twenty-One Days of Gratitude
Safe Harbor Presbyterian Church
Pondering the Fruit of the Spirit naturally leads us to consider our whole way of life as we walk with Christ and each other, especially in trying times. This month we will spend three weeks considering and praying with the spiritual grace of gratitude and thankfulness. Each of the three weeks we will consider gratitude from a slightly different starting point. My hope is that this devotional process will prepare the soil of your heart for the new year, which begins for Christians on the first Sunday of Advent. May we dig deep, wait and prepare with gratitude to meet the Christ child in ever deeper ways on Christmas.
Explore Grace and Gratitude This Week
Sunday November 7, 2021 - Colossians 3:12-17 - 3:12) As God's chosen ones, holy and beloved, clothe yourselves with compassion, kindness, humility, meekness, and patience. 13) Bear with one another and, if anyone has a complaint against another, forgive each other; just as the Lord has forgiven you, so you also must forgive. 14) Above all, clothe yourselves with love, which binds everything together in perfect harmony. 15) And let the peace of Christ rule in your hearts, to which indeed you were called in one body. And be thankful. 16) Let the word of Christ dwell in you richly; teach and admonish one another in all wisdom; and with gratitude in your hearts sing psalms, hymns, and spiritual songs to God. 17) And whatever you do, in word or deed, do everything in the name of the Lord Jesus, giving thanks to God the Father through him. (Emphasis mine.)
The author of Colossians is intent on helping this community understand what it means to live with the character of Christ in unsettling and conflicted times. Drawing on many of the aspects of the fruit of the Spirit to describe a Christlike character, he urges the flock to make forgiveness a constant habit of the heart. He uses the metaphor of clothing to help us understand that we can put these characteristics on like a coat that is both protective and obvious to others. Notice particularly today the highlighted sentence. It is not possible to live with these graces without a thankful heart. Ponder today those things for which you are most thankful, large and small. If you were to, as the writer suggests, sing your gratitude today, what would your song be?
Prayer: God of grace and bounty, today we sing our praise to you for the wonderful coat of graces that you offer to us to wear each day. Keep our hearts warm and supple with compassion, kindness, thankfulness and all of your graces so that we may display a new and beautiful life to the world and live deeply and in peace. In Jesus' holy name we pray. Amen.
(This week's Bible verses are taken from The Message: The Bible in Contemporary Language by Eugene H. Peterson
Monday, November 8: Read Psalm 10:1 "God, are you avoiding me? Where are you when I need you?"
Take time today to track your thoughts and emotions. Have there been moments when you felt anxious or fearful? Are there times when God seems far away and unconcerned? Notice those moments. Don't judge yourself harshly for them. Simply practice replacing those thoughts with thoughts of God's sufficiency. For example, if you find yourself thinking something like "I don't know how I am going to pay my mortgage or gas bill, etc. this month." Notice that fear and choose to think instead, "There is no lack in you, Lord. Therefore, I have all that I need. You have blessed me, and I live in gratitude and contentment with you."
Prayer: God of grace and bounty, help me today to remember that your love is sufficient to my every need. Remove from my heart any fear and replace it with overflowing gratitude. In Jesus' holy name we pray. Amen.
Tuesday November 9: Read Psalm 9:1-2 "I am thanking you, God, from a full heart, I'm writing the book of your wonders. I'm whistling, laughing, and jumping for joy; I'm singing your song, High God."
Today, practice gathering up your blessings. You might want to begin a blessing or gratitude journal. Set a timer for 10 minutes and write down all of the things that you can think of for which you are grateful. Don't ponder too long or hard, just start writing and keep your pen moving for 10 minutes. If you enjoy creative crafts, find a nice small branch with several smaller twigs. Place it in a vase on your desk of coffee table. Write a word or symbol on a piece of blank paper to represent the many blessings of your life. Tie each one to the tree as a prayer. Add to your prayer tree daily.
Prayer: God of grace and bounty, we thank you for all of the gifts of each and every day. We thank you for shelter, food, and creativity. We thank you for our loved ones and the ways you love us through them. We thank you for laughter and play, for the good earth and all it's creatures! In Jesus' holy name we pray. Amen.
Wednesday, November 10: Read: Psalm 18:3 "I sing to God, the Praise-Lofty, and find myself safe and saved."
Take a few moments today to recall the times when you have felt God's special presence. Were you in worship? Surrounded by nature? In a time of prayer or need? See if you can think of 10 such times. Relive each one in your mind's eye. Feel the joy and mystery of those moments. Thank God again for those special times and ask God to open you to Presence today.
Prayer: God of grace and bounty, we thank you for every moment in which we have felt the warmth and wonder of your presence. Help us today to rest in the safety and protection of your never-failing presence and be thankful. In Jesus' holy name we pray. Amen.
Thursday, November 11: Read Psalm 19:10 "God's Word is better than a diamond, better than a diamond set between emeralds. You'll like it better than strawberries in spring, better than red, ripe strawberries."
Gratitude not only feeds on God's love, mercy and protections. It also grows strong on our own acts of generosity. There is little quite so stimulating to gratitude as the capacity to give to others as God has given to us. Today, look for an opportunity to extend an anonymous act of generosity. Be sure that it is anonymous so that you experience it as pure gift and not with the hope of getting something in return. Notice how wonderful you feel and give thanks.
Prayer: God of grace and bounty, thank you for all your tender mercies. Thank you for the ordinary delights of each day and the mystifying grandeur of life lived in your name. Help me today to be a grace shedder, needing nothing in return, just like you. In Jesus' holy name we pray. Amen.
Friday, November 12: Read Psalm 23:1 "God, my shepherd! I don't need a thing."
Today practice letting go of your wants. Just for today. Decide that today you do not need anything. There is nothing that you must acquire. Nothing you must finagle. Throughout the day, allow your thoughts to form around this statement and fill in the blanks. "I am so grateful ….."
Prayer: God of grace and bounty, thank you for meeting all my needs. I am so grateful for…….. In Jesus' holy name we pray. Amen.
Saturday, November 13: Read Matthew 25:35-36 "I was hungry and you fed me, I was thirsty and you gave me a drink, I was homeless and you gave me a room, I was shivering and you gave me clothes, I was sick and you stopped to visit me, I was in prison and you came to me."
Remind yourself today that every encounter with another person is an opportunity to serve Jesus. When you give aid to anyone, you are giving aid to Jesus himself. The tone of voice you use with others, you use toward Jesus. The time you give to others, you give to Jesus. Make it a practice today to be grateful for the many ways that Christ comes to you and for each of the opportunities you have today to offer him your love and devotion by caring for others.
Prayer: God of grace and bounty, you are my heart, my soul, my provision. You give me everything and all I want today is to give to others as you have given to me. Help me today to see you in every face and to touch you in every act of kindness. Thank you God for the honor of touching you in the needs of others. In Jesus' holy name we pray. Amen.
Week Two: Explore Letting Go This Week
Sunday November 14, 2021- In your Bible, read Mark 10:17-31- 17As he was setting out on a journey, a man ran up and knelt before him, and asked him, "Good Teacher, what must I do to inherit eternal life?"
Mark placed his version of the story of Jesus and the rich man within a much longer section describing the boundaries and parameters of total discipleship. He included teaching about discipleship in marriage, discipleship in childlike faith, and discipleship in suffering. Today's story teaches about discipleship and the freedom from possessions. In verse 17, we see a man who has everything but who is still restless of soul. He has not found the peace and centeredness that come from releasing one's hold on possessions or even particular goals or desires. As the story unfolds we see that he cannot let go of the things and attitudes that he has acquired over the years and so he leaves Jesus more sorrowful than he approached him. Ponder today what are the things to which you most tightly cling. Possessions? People? Attitudes? Goals? Old hurts? Ask yourself what you hope those things will bring to your life. Do they really? What would it be like to just open your clutching fist and allow those things their freedom? My hunch is they will not disappear but, rather, take on new perspective. When we release what we think we must have, we are able to receive what we need. Then the energy we have used holding on makes room for greater gratitude.
Prayer: God of grace and bounty, help us today to let go of what we think we must have in order to feel safe, secure and happy. Instead, by releasing those things, create in us more room to experience the gratitude and joy that you offer us each day. In Jesus' holy name we pray. Amen.
(This week's Bible verses are taken from The Message: The Bible in Contemporary Language by Eugene H. Peterson)
Monday November 15: Read John 3:1-2 There was a man of the Pharisee sect, Nicodemus, a prominent leader among the Jews. Late one night he visited Jesus and said, "Rabbi, we all know you're a teacher straight from God. No one could do all the God-pointing, God-revealing acts you do if God weren't in on it." Jesus said, "You're absolutely right. Take it from me: Unless a person is born from above, it's not possible to see what I'm pointing to—to God's kingdom."
Today take a few minutes to imagine what it would be like to start over brand new. What would you happily discard if you got to begin again today? What things would be harder to leave behind? What gifts have your failures brought into your life? What burdens have your successes brought? What assumptions would be hard to relinquish, even if to do so allowed you to gain spiritual insight? If you keep a journal, jot down the things for which you are most grateful. Then think of the things that you need to change or feel sorry
about. Imagine blowing those away with a puff of compassion and seeing the new you that is left behind. Thank God for the mighty healing at the heart of letting go.
Prayer: God of grace and bounty, each day we can be born again in your love. We can start over and do things differently, value things more appropriately. Help us today to release anything that hampers our joy and gratitude so that we may live the live you came to bring. In Jesus' holy name we pray. Amen.
Tuesday, November 16: Read Matthew 11:28-30 "Are you tired? Worn out? Burned out on religion? Come to me. Get away with me and you'll recover your life. I'll show you how to take a real rest. Walk with me and work with me—watch how I do it. Learn the unforced rhythms of grace. I won't lay anything heavy or ill-fitting on you. Keep company with me and you'll learn to live freely and lightly."
Today, in so far as it is up to you, let go of your 'to-do' list. Of course, you will go to work and fix your meals and see to your family. But, just for today, let go of the burden of having to do everything right now and perfectly. Notice how you feel when you stop or simply say to yourself, "This can wait." Do you feel anxious, a little guilty like you are shirking? Do you feel any space opening up in you? It might take days of practice to feel that open spiritual space, so don't judge yourself if you don't. Take a moment today to ponder Jesus. Just think about him. What do you know about him? What was important to him? What does he mean to you? Create a 'to-be' list. Put getting to know Jesus better at the top of the list and see what comes next. Thank God for the mighty healing of letting go and putting first things first in your life and be grateful.
Prayer: God of grace and bounty, thank you for the invitation to come aside with you today. Help me to trust that, if I stop for a while with you, nothing will fall apart. Things will only fall together. In Jesus' holy name we pray. Amen.
Wednesday, November 17: Read Luke 16:8-9 "Now here's a surprise: The master praised the crooked manager! And why? Because he knew how to look after himself. Streetwise people are smarter in this regard than law-abiding citizens. They are on constant alert, looking for angles, surviving by their wits. I want you to be smart in the same way—but for what is right—using every adversity to stimulate you to creative survival, to concentrate your attention on the bare essentials, so you'll live, really live, and not complacently just to get by on good behavior."
Today think about all of the survival tools that you have mastered over a lifetime. You know how to earn a living. You know how to pay your bills. You know how to make a meal. What are the valuable things that living in the world has taught you? How can those skills be used to further the kingdom? How can they be used to aid your church? Make a list of what you know how to do well. Then make a list of a few things that are at the core of the Gospel's message. How can what you know how to do be put in service to furthering the cause of Christ and the ministry of the church? Choose one new thing that feels simple and exciting to you. Make that thing a part of your commitment to the
church during this gratitude season. Thank God for the mighty healing of letting go of perfection and the sweet joy of simple service.
Prayer: God of grace and bounty, thank you for all that you have taught me through both the good and hard times of life. Help me today to take what I have learned and use it to further your kingdom. In Jesus' holy name we pray. Amen.
Thursday, November 18: Read Luke 10:29 "Looking for a loophole, he asked, "And just how would you define 'neighbor'?"
Jesus responds to this question with the story of the Good Samaritan in which a stranger offers extraordinary kindness and care to one he might have thought of as an enemy. He let go of the category of enemy in order to see behind the world's labels to the need of a hurting person. Today try letting go of the restrictive notion of 'enemy.' What people, peoples or processes do you tend to think of as being in opposition to you or undeserving of your care or concern? Make a list of them. Next to each item, write…child of God, I forgive you and ask God's blessing upon you. This is not easy because we tend to think that forgiveness must be deserved and blessing earned. That is not, however, true. God forgives the unforgivable and blesses the undeserving. When we remove the category of enemy from our hearts, God creates more bounty and peace than we can dream. Thank God for the mighty healing of letting go of the idea of enemy and the joy of forgiveness.
Prayer: God of grace and bounty, thank you for showing us that the hurts we harbor and the enemies we great from them are nothing in your kingdom. You do not oppose. You only bless. Help us today to practice asking blessing on any people or groups that we fear or resist and be grateful. In Jesus' holy name we pray. Amen.
Friday, November 19: Read Luke 9:32-33 "Meanwhile, Peter and those with him were slumped over in sleep. When they came to, rubbing their eyes, they saw Jesus in his glory and the two men standing with him. When Moses and Elijah had left, Peter said to Jesus, "Master, this is a great moment! Let's build three memorials: one for you, one for Moses, and one for Elijah." This he blurted out without thinking.
It is so natural to want to hold on to the high holy moments of life. Sometimes it is ok to do that, to relive and re-experience joys again and again. That is part of the grace of memory. On the other hand, holding on to what has been can keep us stuck or lead us to make unwise decisions trying to replicate the past. When we do that we can miss the radical new thing, that often includes sacrifice of the old thing, that Jesus is up to. Today, ponder the traditions that you hold sacred. What do you want to cling to, even if God is headed elsewhere? Take a moment to thank God for these things that you love, believe in and want to preserve. Then offer each one to God for safekeeping. God will keep the ones that are not good for you and return the others to you blessed and renewed. Thank God for the mighty healing of letting go.
Prayer: God of grace and bounty, today I offer into your care everything that is precious to me. Help me to trust that where you take me is always right and that you provide what
is needed most. Thank you for all that I love and most of all for all that you yet plan. In Jesus' holy name we pray. Amen.
Saturday, November 20: Read Mark 1:16-18 "Passing along the beach of the Lake of Galilee, he saw Simon and his brother Andrew net-fishing. Fishing was their regular work. Jesus said to them, "Come with me. I'll make a new kind of fisherman out of you. I'll show you how to catch men and women instead of perch and bass." They didn't ask questions. They dropped their nets and followed.
Ponder today the things that you are most comfortable doing. What things would you be able to leave behind if it meant that you could follow Jesus more closely and become a more effective disciple? What could you give up to put yourself in service to Christ? What spending choices could you change in order to create more opportunities for giving to Christ? What could you leave behind, to follow Jesus? Thank God for the mighty healing of letting go.
Prayer: God of grace and bounty, sometimes we get tangled up in the nets of our comfort zones. Help us today, upon your word, to release what holds us back and to travel with you in confidence and full of gratitude. In Jesus' holy name we pray. Amen.
Week Three Sunday: Explore Grateful Giving This Week
November 21, 2021 - Read Malachi 3:6-11 - 6For I the Lord do not change; therefore you, O children of Jacob, have not perished. 7Ever since the days of your ancestors you have turned aside from my statutes and have not kept them. Return to me, and I will return to you, says the Lord of hosts. But you say, "How shall we return?" 8Will anyone rob God? Yet you are robbing me! But you say, "How are we robbing you?" In your tithes and offerings! 9You are cursed with a curse, for you are robbing me—the whole nation of you! 10Bring the full tithe into the storehouse, so that there may be food in my house, and thus put me to the test, says the Lord of hosts; see if I will not open the windows of heaven for you and pour down for you an overflowing blessing. 11I will rebuke the locust for you, so that it will not destroy the produce of your soil; and your vine in the field shall not be barren, says the Lord of hosts.
In the Old Testament the 'tithe' refers to an offering of 10%, off the top, of everything over which one has control to the worshiping community to support its life and ministry. Originally the tithe was instituted to support the Levites who were responsible for the tabernacle and worship (Num. 18:20-24) and to support various feasts and sacrifices, some lasting a several of days. These were joyous celebrations of God's goodness and nothing was to be scrimped on them. (Deut. 14:22-27) The tithe was also established in order to create a pool of resources to help the poor, orphans, widows and foreigners. (Deut. 14:28-29) The graciousness of this spiritual practice was often lost on the people then, as it is now. It was not uncommon for people to give their tithes as ways to exert influence or to coerce desired blessings or status from God or the community hierarchy. Over time, people began to see 10% as both a floor and a ceiling for giving. No matter how much one had or had to spare, 10% was all that God and the worshipping
community were entitled to. When the tithe ceased to be rooted in the heart and gracious bounty of God, it lost its power to transform people and became merely transactional. Even so, the tithe, when accepted freely and as a practical response to God's grace, is still powerful spiritual food. It deepens faith, promotes gratitude and harmony, confronts idolatry, unmasks consumerism, provides for the maintenance of divine worship, frees religious professionals from undue worry about survival so that they may serve from a generosity and harmony of heart, levels the playing field among members (proportionality is proportionality) assures that there are resources for the aid of the poor, the spread of the gospel, advocacy for justice, instruction of children, joyous celebration and profound countercultural witness in the world. Ponder today how giving to the church comes from gratitude and feeds gratitude in your life. Does fear of lack creep in and allow giving to come last or resentment to grow? Imagine placing yourselves and all of your resources into the hands of God. Close your eyes and imagine how that feels and be grateful.
Prayer: God of grace and bounty, in your wisdom and love you offer us practices that, without fail, lead to peace, joy, justice and gratitude. And yet we often resist, thinking we know better or that other things are more pressing. We are sorry. Help us today to receive your instruction with open willing hearts and respond. In Jesus' holy name we pray. Amen.
Monday, November 22: Read Lev. 27:30 All tithes from the land, whether the seed from the ground or the fruit from the tree, are the Lord's; they are holy to the Lord.
Ponder today all of the bounty of God. Think of every wonderful thing you can. Make a list of everything fine and full in your life. Look with praise and thanksgiving over the list and ask how you can offer a tithe of thanksgiving today. Thank God for God's kind and perfect ways.
Prayer: God of grace and bounty, you have lavished us with so much. Everything we have comes from you and belongs to you. How will you have me use your gifts today? In Jesus' holy name we pray. Amen.
Tuesday, November 23: Read Matthew 23:23 'Woe to you, scribes and Pharisees, hypocrites! For you tithe mint, dill, and cummin, and have neglected the weightier matters of the law: justice and mercy and faith. It is these you ought to have practiced without neglecting the others.
Think humbly today of the ways that you trivialize your relationship with God. Are there ways that you take gifts and turn them into burdens? Are there small actions you take to feel good about yourself and therefore have an excuse for not doing something big? Have you ever felt secretly righteous about your giving and looked down on others who don't do as much? Ask God today to show you your blind spots. Confess your fault and thank God for God's kind and perfect ways.
Prayer: God of grace and bounty, sometimes we major in minors! We get so caught up in
doing the little things correctly that we no longer see the big picture. Help us today to keep our eyes on you so that we may deepen our faith, practice and trust in you. We thank you God for all that you offer, your gifts, your guidance and your patience! In Jesus' holy name we pray. Amen.
Wednesday, November 24: Read Mark 12:42-44 A poor widow came and put in two small copper coins, which are worth a penny. Then he called his disciples and said to them, 'Truly I tell you, this poor widow has put in more than all those who are contributing to the treasury. For all of them have contributed out of their abundance; but she out of her poverty has put in everything she had, all she had to live on.'
Think today of the role models of generosity and gratitude that you have known. How did they show these graces? What characteristics of their lives did you find most compelling? Who has taught you most about humility and gratitude? Who has shown self-sacrifice to or for you? Take a moment to thank God for each of these spiritual mentors. Ask God to help you learn courageously from their example and thank God for God's kind and perfect ways.
Prayer: God of grace and bounty, not only to you guide us in prayer and in your scriptures, but you also guide us with the holy people in our lives who have helped to form our faith and character. Today I thank you especially for……. Their witness has made me who I am, and I am grateful. In Jesus' holy name we pray. Amen.
Thursday, November 25: Read Ezra 2:68 As soon as they came to the house of the Lord in Jerusalem, some of the heads of families made freewill-offerings for the house of God, to erect it on its site.
Think today about the beauty of your church facilities, especially your sanctuary. Thank God for the many sacrifices the people of St. Paul's have made over the years and their graciousness in providing that house of worship for you. Think also of all the churches that have nourished you over the years. Think of the soaring music you have heard, of the fine and inspiring messages, of the tender and beautiful prayers. Think of the flowers, the windows, the Table, Pulpit and Font. Thank God for the symbols and sacraments of our common life. Allow your mind to be filled with images of the church filled with the saints of all ages and stages of life. Allow yourself to feel the holy energy of people gathered to praise God and to find comfort and care. Ask God to receive your life and resources as a freely given offering for the church and thank God for God's kind and perfect ways.
Prayer: God of grace and bounty, you have nourished us with your gathered people and we are so grateful. We are grateful for the church families and facilities that you used to raise us in faith. We are grateful for the ones we embraced and the ones we released. We are grateful for the building that have held our prayers and fed our souls. And we are grateful for our expanded 'sanctuary' that makes moments holy all over the world. Help us today to give ourselves to you for your holy work. Help us on this day of Thanksgiving to be truly grateful. In Jesus' holy name we pray. Amen.
Friday, November 26: Read Psalm 56:12 My vows to you I must perform, O God; I will render thank-offerings to you.
Today, ponder the promises that you make to God through your church. Share with God in prayer the vows you want to make for your life with God and in the church in the new church year that begins on Sunday. Ask God for peace, joy and gratitude in sharing yourself and your gifts with others. Thank God for God's kind and perfect ways and promise that you will, with God's help, follow as you are led.
Prayer: God of grace and bounty, as we approach the close of another church year, help me today to pause and reflect on promises I have made to you. Show me where I have kept faith and where I have faltered. Instill in me new hope for the new year and help me to be thankful for everything. In Jesus' holy name we pray. Amen.
Saturday, November 27: Read Deuteronomy 30:15-16 See, I have set before you today life and prosperity, death and adversity. 16If you obey the commandments of the Lord your God that I am commanding you today, by loving the Lord your God, walking in his ways, and observing his commandments, decrees, and ordinances, then you shall live and become numerous, and the Lord your God will bless you in the land that you are entering to possess.
Take time today to thank God for the gift of your church, for these weeks of reflection and for the opportunity to make new and life-giving choices every day. Thank God for the bounty of your life and for that which is yet to come. On this New Year's Eve of the church year, recommit yourself to following God's commandments and walking in grace and joy during the coming year. Ask God to accept the gifts you are preparing and to show you how to best use your time and talents this year. Pray for all of your fellow congregants, both in Cambria and in your online sanctuaries all over the world. Thank God for God's kind and perfect ways.
Prayer: God of grace and bounty, we close this church year filled with gratitude for all that you have provided for us. Thank you for our spiritual home, for the growth you have given, for the challenges that have made us stronger, for the laughter and wonder and tears of the last year. We thank you for all that you have in store for the future. Help us today to prepare for the holy season of Advent with deep joy and welcome. We thank you for all of the tender traditions that will lead us once more to the cradle of Christ and for the space you have created in us to welcome Christ into the home of our hearts. In Jesus' holy name we pray. Amen.