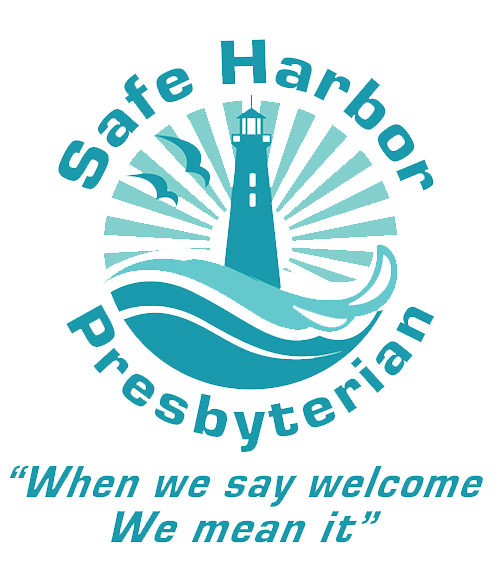 Daily Scripture and Prayer April 2021
Safe Harbor Presbyterian Church
It may seem strange to spend the season of Easter this year in the upper room and on the night of betrayal. Still, perhaps it is not accidental that we find ourselves here. There is no more poignant point of view from which to ponder these events than from the other side of them. So to prepare us for this month's reflection, I want to offer some context.
In John, the night in the upper room is probably the Sabbath before Passover rather than Passover itself, as we see in the other gospels. The point, as always, is not documentary chronology. The point is theology. In John, Jesus' is the sacrificial lamb, so his sacrifice by rights should be on the preparation for Passover Day. So, the meal the disciples have shared is probably not their seder. There is no taking of the cups and breaking of the matzoh in John. Rather, there is the poignant foot washing in which Jesus demonstrates the nature of servanthood.
We pick up the narrative this month after the foot washing. Judas has gone out into the night and Jesus knows that the time he has left to be with his disciples is short. He has tried to tell them this but they resisted. Now, as he prepares to face the most painful experiences of betrayal and death that a human being can endure, he prays fervently for his disciples. He has said all he can say. Now there is nothing left but to pray. Did he pray aloud so the disciples could hear and remember? Did the Spirit illumine the author of John later? We don't know and it doesn't matter. In this prayer, the heart of Jesus' heart and desires for us are revealed.
In the first section, he focuses on those who are with him in that room, then, remarkably, widens the circle to include those of us who believe later as a result of the disciples' witness. This reinforces that our relationship with Jesus is just as intimate and personal as theirs was.
This prayer is often called the Prayer of Consecration (or the High Priestly Prayer.) This is very significant. It is the same phrase we use over the bread and wine at communion. Using those words teaches us those over which the prayer is prayed (us)are forever changed, set apart and holy, for a sacred purpose. In the Prayer of Consecration, Jesus reveals his purpose for us as we are set apart and changed in relationship with him. These are Jesus' final longings and wishes for us, the church.
The word "Glory" is a complex term and hard to pin down in English. It means, 'weighty importance,' 'shining majesty,' 'good fortune,' and 'to give honor and praise.' In John, 'glory' is Jesus' way of talking about the finished work of reconciliation between humans and God that he is achieving. Jesus' glory is God's grace, the capacity to be in loving relationship with God despite the fact that we are sinners and unable to live as we ought to do. That is what is of utmost weight. It is what allows us to shine in the shared majesty of our great God.
One final thought to keep in mind this month, it is the gift of this glory that is the source of our unity. Unity is not agreement or unanimity, it is shimmering, completed reconciliation. It is our hope.
April 4 - Easter Day – John 17:1-2 – 17:1 After Jesus had spoken these words, he looked up to heaven and said, "Father, the hour has come; glorify your Son so that the Son may glorify you, 2since you have given him authority over all people, to give eternal life to all whom you have given him. The word 'heaven' refers to the dwelling place of God anywhere. In Hebrew thought, heaven did not ordinarily refer to the place of abode in the afterlife. They had a very shadowy view of that. The word in Hebrew means 'a finer country' as in more holy, just and equitable one. 'Hour' is the word for a specific moment in time. 'Authority' (exousia)is a big word in Greek. It means executive power, permission, right, liberty, power to do something and might. Try reading the verse substituting each of these words or phrases to begin to see the scope. 'All' means total. 'People' (sarx) is the word for flesh. It refers both to the physical body, but also to the infirmities of human nature. 'Eternal life' is a word we know well, zoe. It is the principle of life itself that is eternal and is the highest and best of being itself.
Prayer: Dear God, on this beautiful Resurrection Day, we remember again your gift to us of life at its highest and best to be lived now and eternally. We praise you for your shimmering radiance that shone on the cross, in an empty tomb, and shines in our hearts today. In Jesus' holy name we pray. Amen.
April 5 – John 17:3-5 - 3And this is eternal life, that they may know you, the only true God, and Jesus Christ whom you have sent. 4I glorified you on earth by finishing the work that you gave me to do. 5So now, Father, glorify me in your own presence with the glory that I had in your presence before the world existed. Jesus' most powerful longing is 'That they may know you'. Know (ginosko) is the word that means to come to know and understand completely from intimate relationship. It is this intimate knowing that actually is eternal life. So it begins now. 'True' is a wonderful word. It means genuine, one who cannot lie. 'Sent' (apostello) refers to someone on a mission. 'By finishing' this word means to have accomplished, completed or reached a goal. In John, the 'work' completed refers to proclamation, demonstration and forgiveness. 'World' (kosmos)refers here to the physical universe.
Prayer: Dear God, help us today to bask in the truth of our eternal life with you. Help us to see you all around us, inside us and between us. Awaken us to your presence so that we may know you more deeply, truly and intimately so that we, too, may be sent by you with good news for all your children. In Jesus' holy name we pray. Amen.
April 6 - John 17:6 - 6"I have made your name known to those whom you gave me from the world. They were yours, and you gave them to me, and they have kept your word. 'Made your name' literally means to take the lid off, or to manifest. I love this! Jesus takes the lid off the mystery and reality of God! 'Kept' is the word for guarded, kept from harm, misunderstanding and loss. 'Word' here is logos, the word that describes Jesus himself, the interiority and totality of something. This is a pretty charitable assessment of us! How his love flowed in this prayer!
Prayer: Dear God, by your grace and with your forgiveness, make us today the people Jesus saw us to be, people who know you and keep your word! In Jesus' holy name we pray. Amen.
April 7 – John 17:7-8 7Now they know that everything you have given me is from you; 8for the words that you gave to me I have given to them, and they have received them and know in truth that I came from you; and they have believed that you sent me. 'Words' here is a different word from the one in yesterday's verse. Here it is rhema. That refers to a spoken word, a revealed all powerful command. What is this rhema to which Jesus refers? It is the totality of his command to love, to live in the light, to reject all hate, division and confusion. 'Received' is the word for to take something in and incorporate it. 'Believed' is a form of the word to trust. The word 'sent' is again the word for to be on a mission with a specific goal.
Prayer: Dear God, help us today to receive your powerful commands for us. May we live them out in joy, filled with your peace and presence. In Jesus' holy name we pray. Amen.
April 8 – John 17:9-10 9I am asking on their behalf; I am not asking on behalf of the world, but on behalf of those whom you gave me, because they are yours. 10All mine are yours, and yours are mine; and I have been glorified in them. 'Asking' (erotao) refers to a delicate and tender request made to an equal. (Aitao refers to a request made by a subordinate.) 'World' here refers not just to the physical world, but to all that stands in opposition to light, love and unity.
Prayer: Dear God, it is amazing to ponder the truth that Jesus is glorified, made splendid, shimmering, and completed in us! Help us today to see ourselves as Jesus sees us and to bask in that glory. In Jesus' holy name we pray. Amen.
April 9 – John 17:11 - 11And now I am no longer in the world, but they are in the world, and I am coming to you. Holy Father, protect them in your name that you have given me, so that they may be one, as we are one. Perhaps the word 'in' in the first phrase of this verse might be better translated 'of'. Jesus is beginning to separate himself in preparation for what he knows is coming. He knows that we are still made up largely of the stuff of the world, at least in our awareness. 'Holy' (hagios)means set apart, sacred. The word 'father' here is not Abba as Jesus often prays. Rather, it is Pater, which means progenitor, source. 'Protect' means to watch over vigilantly. 'In your name' is an ambassadorial phrase meaning to carry the full weight and values of the named one. 'So that they may be one as we are one' is absolutely huge and mind blowing. Jesus is asking Pater to protect us to such an undeniable extent that we human followers may live in intimate, complete, fulfilled relationship with each other in exactly the same way the persons of the trinity live. This is nearly incomprehensible, even giving what we now know. Imagine how the disciples must have felt, sitting there, rent asunder even in their little group with Judas out in the night, on the brink of insurrection, ground down by oppression, with no understanding of the trinity. Perhaps the call to unity seemed as unattainable to them as it does to us in our day.
Prayer: Dear God, your deepest desire is that we live in unity, aware that we are indeed of one common source. How hard it is for us to maintain that truth in today's world, even in our families and communities! Help us Lord, to sink into this truth and open us to be changed by it. In Jesus' holy name we pray. Amen.
April 10 – John 17:12 - 12While I was with them, I protected them in your name that you have given me. I guarded them, and not one of them was lost except the one destined to be lost, so that the scripture might be fulfilled. This is a difficult verse. A literal translation might be 'I kept watch and none of them perished except the son of perdition.' The words used mean someone who is lost or ruined, excluded from salvation (wholeness) or not being what one could have been. We don't know to whom this refers. Is it Judas? Is it one of the Jewish leaders? Is it the fallen angel from the beginning? We don't know. It seems that Jesus has someone specific in mind and sees it as fulfilling Psalm 41:9
Prayer: Dear God, it is hard for us to imagine anyone being lost. Still, we know that in our own lives we can know ruin and the agony of seeing that we are not what we could have been. Perhaps it is that ability to see and return to you that is the greatest gift to those who belong to you. May all of your children, see, turn and return, Lord! In Jesus' holy name we pray. Amen.
April 11 – John 17:13 - 13But now I am coming to you, and I speak these things in the world so that they may have my joy made complete in themselves. This is so poignant it is hard to even stay with it, but try. 'You' in the first phrase refers to the Pater. To 'speak' something in the Bible is to create it what is spoken. 'Joy' (from chara)means to exult, to rejoice, to delight. It can refer to anything from calm delight to wild exultation. This is Jesus' big-picture- long-view desire for us. Joy, in the New Testament it is independent of circumstances and therefore is the antidote to the poison of trails and hardship. This is the word most often used of the martyrs in the arenas when the animals were at their necks. 'Complete' means full to overflowing. Jesus is rejoining the Pater after having spoken into reality a new and eternal life of love and joy. His deepest prayer, on the night of his betrayal, is that we will live lives overflowing with joy.
Prayer: Dear God, why is it that we so often foreclose on this heritage? We learn in our catechism that the purpose of our lives is to love you and enjoy you forever. Yet we moan, gripe and complain at our lot more than we dance with the joy of life itself lived in your presence. Help us to stop the joy draining thoughts and actions to which we are so prone, and to go outside barefoot and dance in the grass with your joy rising up from the earth and filling each cell of our bodies, just as you desire. In Jesus' holy name we pray. Amen.
April 12 – John 17:14 - 14I have given them your word, and the world has hated them because they do not belong to the world, just as I do not belong to the world. 'Word' here is logos, a word embodying an idea, a thought expressed in action. 'Do not belong' means to not be owned by the world, its values, its false aims and destructive divisions.
Prayer: Dear God, too often we feel as though we are owned by the world. We focus on strife rather than your healing presence within it. We obsess about provision rather than relax into your bounty. We blame and judge rather than work and love. Help us today to release the bonds of the world on our thoughts and actions so that we may feel your joy and work out of your peace. In Jesus' holy name we pray. Amen.
April 13 – John 17:15-16 15I am not asking you to take them out of the world, but I ask you to protect them from the evil one. 16They do not belong to the world, just as I do not belong to the world. The word for 'evil' here is poneros. It is not the general word for evil or badness (kakos.) Poneros is used of both Satan and human beings. It means to be maliciously and morally evil.
Prayer: Dear God, we know that we are in this time and place for a reason. We do not ask you to remove us from the moment and its challenges. Rather, we ask you to protect us from malicious moral evils. And above all else, do not let us become what we most deplore. In Jesus' holy name we pray. Amen.
April 14 – John 17:17-17Sanctify them in the truth; your word is truth. 'Sanctify' means to set apart as special or holy. 'Word' here is logos. 'Truth' (Alethia) means the reality lying at the core of something, or the basis for something. It is the manifested essence of a matter.
Prayer: Dear God, your Son Jesus longed that we might be set apart and holy by our awakening to the essence of truth itself, that we might see it everywhere and that, in seeing, live holy and joyful lives that spread light to the whole world. Help us today, to accept that calling anew. Thank you for your grace and your trust in us. In Jesus' holy name we pray. Amen.
April 15 – John 17:18-19 - 18As you have sent me into the world, so I have sent them into the world. 19And for their sakes I sanctify myself, so that they also may be sanctified in truth. The word 'so', that begins the second clause means in exactly the same manner as.
Prayer: Dear God, this is our prayer of consecration. We are set apart by Christ to be sent as he was to shed light, love and joy. Help us today to start by offering those amazing qualities to ourselves and those closest to us. We will never run out of your love so we can lavish it even on ourselves as training for sharing it with others. Thank you, Lord! In Jesus' holy name we pray. Amen.
April 16 – John 17:20-21 - 20"I ask not only on behalf of these, but also on behalf of those who will believe in me through their word, 21that they may all be one. As you, Father, are in me and I am in you, may they also be in us, so that the world may believe that you have sent me. Here Jesus makes explicit the amazing pivot that takes this prayer out of that room and into our own lives. 'These' refers to the eleven. Judas has left. His prayer is that all of us will experience the oneness with him and the God head, that he experiences. He is praying not just that we will believe it, but that we will know that we are of it, made of the stardust of God, the very substance. That substance is not simply matter, molecules and cells. Rather, the substance of our oneness is in relationship. We learn in the trinity that the essence of God is relationship itself. It is relationship with God, therefore, that is the essence and substance of who we are as well. This is a powerful word. Spend some time with it today!
Prayer: Dear God, your majesty is so far beyond us and yet you teach us that it is as simple as love constantly shared and received. Wow! Help us today to know you in this way and to see you in each other. In Jesus' holy name we pray. Amen.
April 17 – John 17:22-23 - 22The glory that you have given me I have given them, so that they may be one, as we are one, 23I in them and you in me, that they may become completely one, so that the world may know that you have sent me and have loved them even as you have loved me. Remember that 'glory' is not only a shimmering radiance, it is a weighty power that has good fortune at its core. When Jesus says that he gives the Pater's glory to us it means that we have been given both God's majesty and God's depth and goodness. The goal of giving us this glory is that we may fully grasp what it means to be one with God as Jesus is one with God. He describes this as being in us as God is in him. The word 'completely' means perfected, as intended. The word 'know' is again a form of ginosko. Our oneness with God is purposed. It is so that the world can fully know and understand from intimate experience that Jesus is from God with the purpose of loving. The form of the word love used here expresses love as a direction of the will that finds its joy in expressing compassion toward the beloved.
Prayer: Dear God, we thank you from every cell of our being for your great love for us demonstrated most powerful in Jesus. Open us this day to the mystery that you live in us, love us and love through us, just as you did in and through Jesus. In Jesus' holy name we pray. Amen.
April 18 – John 17:24 - 24Father, I desire that those also, whom you have given me, may be with me where I am, to see my glory, which you have given me because you loved me before the foundation of the world. This is heart rending. Jesus is basically asking the Father not to let all of his friends abandon him at the end. 'To see' (theoreo)means to look with interest and for a purpose, careful observation that leads to insight. John always sees the greatest demonstration of Jesus' glory as the crucifixion itself. It shows the majesty and weightiness of God's love. The English translation leaves out an important, to me, word in this verse. In the Greek it literally reads 'before laying down the foundation of the world.' Why is that important? Because
it makes explicit that Jesus was with God from the beginning. Some in the early movement believed that Jesus was born fully human and received divinity at his baptism for a specific purpose. This would refute that.
Prayer: Dear God, help us today to stay close to you wherever we see you suffering in and with your children in pain. Do not let us run in fear or apathy, for we know that if we are faithful, we will see your glory. In Jesus' holy name we pray. Amen.
April 19 – John 17:25 - 25"Righteous Father, the world does not know you, but I know you; and these know that you have sent me.' 'Righteous' (dikaie) means perfectly just, always just. The word 'know' is again a form of ginosko, meaning full knowledge from intimate experience. Jesus is lamenting how lacking in understanding and intimacy with God so many in the world are. Even in that lament he is grateful that at least those closest to him understand that he was sent by the Father even if they don't fully grasp what that means.
Prayer: Dear God, when we look at our lives, choices, priorities and burdens we know that we act like we don't know you very well either. Please be patient with our faltering faith and show us your love and righteousness as beacons to lead us home. In Jesus' holy name we pray. Amen.
April 20 – John 17:26 - 26I made your name known to them, and I will make it known, so that the love with which you have loved me may be in them, and I in them." The form of 'known' here indicates divinely communicated things. This is the purpose of all divine interaction with humanity: so that the love of God may be understood and lived in and through us. In this brutal hour of betrayal leading up to the crucifixion, overhearing Jesus' deep prayer reminds us of how he saw his purpose. It wasn't simply to shape us up, or to somehow slam shut the gates of hell. It was so that we might experience God's love, in all its vast unfathomable beauty, inside of us, as E. E. Cummings said, 'human merely beings.' Wow.
Take a moment to sit with this today. It is all about love. Everything else is a fringe benefit.
Prayer: Dear God, help us today to put first things first. Help us to rest in your love and tap into its depths inside our very souls. In Jesus' holy name we pray. Amen.
April 21 – John 18:1 – After Jesus had spoken these words, he went out with his disciples across the Kidron valley to a place where there was a garden, which he and his disciples entered. 'Spoken these words' is a familiar refrain that indicates a transition in the narrative. The Kidron valley was like a big ravine. It was often called The Winter Flowing Kidron.' In John's understanding, the 'garden' has mystical significance. One of the words for 'healing' in Greek (therapeuo) meant to heal, to be of service to God or to cultivate a garden. Early Christians talked about the soul itself as a garden that flourishes with care but can become overcome by weeds. In the New Testament, gardens are places of meditation and conversion, but also betrayal. It is often through betrayal or hardship that souls and gardens are purified and readied for new life.
Prayer: Dear God, we are your holy garden, the place where Jesus lives and moves. Help us today to allow you to cultivate our souls with love. Pull up by the roots anything in us that leads us away from you and the love you plant deeply within us. In Jesus' holy name we pray. Amen.
April 22 – John 18:2-3 - 2Now Judas, who betrayed him, also knew the place, because Jesus often met there with his disciples. 3So Judas brought a detachment of soldiers together with police from the chief priests and the Pharisees, and they came there with lanterns and torches and weapons. 'Detachment of soldiers' (speira) means Roman soldiers, maybe as many as a hundred. 'Police' were like the secret service today. They were in the employ of the Temple and guarded the chief priests and their families. The 'Pharisees' here are the lawyers for the Temple and, in a sense, serve the chief priests. 'Lanterns and torches' was an important metaphor for John. It was his way of reminding his hearers/readers that they had no 'light' other than what they manufactured for themselves out of their own fear and blindness. The fact that they bring weapons is typical. When we have no insight, we always address threats with force!
Prayer: Dear God, it is harrowing to imagine that scene. It is even more harrowing to see it re-enacted in so many ways today. Give us insight, Lord, so that we do not attack in our blindness the very one and the very truth that can save us. In Jesus' holy name we pray. Amen.
April 23 – John 18:4 - 4Then Jesus, knowing all that was to happen to him, came forward and asked them, "Whom are you looking for?" The word 'knowing' (oida) here is different from the one mentioned earlier. It means to perceive absolutely in all of something's ramifications. 'Came forward' reminds us that Jesus willingly meets his opponents. He is in charge of his own arrest. The question he asks of the soldiers and police is the same question he earlier asked of his own disciples. It can be understood on two levels. First he wants them to identify the one they seek. Second, he wants to know who it is that their hearts and lives really seek.
Prayer: Dear God, sometimes we too become confused as to what and whom we really seek. Today, help us to breathe deeply of your presence and listen to your question to our own struggling hearts. We thank you for the clarity that we know comes from knowing you. In Jesus' holy name we pray. Amen.
April 24 – John 18:5-6 - 5They answered, "Jesus of Nazareth." Jesus replied, "I am he." Judas, who betrayed him, was standing with them. 6When Jesus said to them, "I am he," they stepped back and fell to the ground. Notice that in this version, Judas does not identify Jesus with a kiss. He simply stands with the opposition. We do not see him again in John's Gospel. He is no longer needed and has melded with the opposition itself. The same thing happens to us when we fail to resist the sway of evil because we want its power to accomplish our own goals. The soldiers identify their suspect. Jesus responds with "I am." In English we add the 'he' for clarity. These 'ego eimi', 'I am' statements are sprinkled throughout John. The reason they fell to the ground was that Jesus, in this way, identified himself with God, who gave the name 'I am' (Yahweh)to Moses. Their reaction tells us that they understood what Jesus was saying. It was a theophany, a revealing of divinity in Jesus. Remember that it is not a sin not to see. It is a sin to see and not be changed or redirected.
Prayer: Dear God, how many times have we stood silent in the presence of oppression and melded into the opposition? How many times have you gifted us with insight and yet we do not change course? Help us today to see you anew and respond with love as love. In Jesus' holy name we pray. Amen.
April 25 – John 18:7-9 - 7Again he asked them, "Whom are you looking for?" And they said, "Jesus of Nazareth." 8Jesus answered, "I told you that I am he. So if you are looking for me, let these men go."9This was to fulfill the word that he had spoken, "I did not lose a single one of those whom you gave me." Jesus is ever the Good Shepherd. Even in the presence of that overwhelming show of force, he tries to protect his friends. We do not have the teaching that he is quoting here. There were no doubt many sacred writings that were commonly known in Jesus' day that were lost to us.
Prayer: Dear God, my Shepherd, thank you so much for your loving protection. In every moment of danger or crisis you plead for our safety. We are grateful. We know that without your care and protection we would be lost. In Jesus' holy name we pray. Amen.
April 26 – John 18:10-11 -10Then Simon Peter, who had a sword, drew it, struck the high priest's slave, and cut off his right ear. The slave's name was Malchus. 11Jesus said to Peter, "Put your sword back into its sheath. Am I not to drink the cup that the Father has given me?" John's gospel emphasizes Peter as the one who represents us all. Here we see his violent reaction to the threat. Jesus' response is telling. He wants Peter to understand that violence cannot be met with violence. Throughout the New Testament we are urged not to become like what we most despise. It is especially poignant here because, as is often the case, when violence is seen as a means to accomplish a goal, it is the helpless who are hurt, in this case the slave Malcus. There is no healing touch here as in Luke. Furthermore John is the only gospel that records Malcus' name. This is to remind us that the harm done to the powerless is not always easily undone and that, those who are harmed are real people. They have names. The 'cup' in the synoptics is usually read as being his suffering and death. In John, the cup (cross) is almost a gift because it is essential to the saving work of grace.
Prayer: Dear God, when will we learn that violence never heals? When will we learn that only love has that power? Maybe today? Let it be today! In Jesus' holy name we pray. Amen.
April 27 – John 18:12 12So the soldiers, their officer, and the Jewish police arrested Jesus and bound him 'Jewish police' refers to the personal police force of the leadership of the Temple.
Prayer: Dear God, sometimes in our time, in the name of security or power or public safety, we arrest and bind the innocent too. Help us today to live with more grace and insight. Help us to see with your eyes. Help us to never bind love out of blind fear. In Jesus' holy name we pray. Amen.
April 28 – John 18:13-14 - 13First they took him to Annas, who was the father-in-law of Caiaphas, the high priest that year. 14Caiaphas was the one who had advised the Jews that it was better to have one person die for the people. Notice that in John, there is no formal trial before the Sanhedrin. The chief priests interrogate and decide the case. Why? Because this was not about justice or due process. This was about a threat to their power. To their minds he was a terrorist who had forfeited his rights. In addition, they thought that if they rid themselves of him, his movement would die out and rejoin the mainstream. That way they would avoid worse confrontations with Rome. Rome didn't care about Jewish religion. Rome cared about messes. And when occupying powers that care about messes lose patience, then that is when the peoples and the Temple get destroyed over and over again.
Prayer: Dear God, what a night that was! A night of betrayal, collusion, cover ups and hasty justice. What we know, sadly, is that often hasty justice is an oxymoron. Help us today to ponder the things or people we are willing to sacrifice to make ourselves feel safe or for simple expediency. Give us eyes to see, ears to hear and hearts ready for reform! In Jesus' holy name we pray. Amen.
April 29 – John 18:15-18 - 15Simon Peter and another disciple followed Jesus. Since that disciple was known to the high priest, he went with Jesus into the courtyard of the high priest, 16but Peter was standing outside at the gate. So the other disciple, who was known to the high priest, went out, spoke to the woman who guarded the gate, and brought Peter in. 17The woman said to Peter, "You are not also one of this man's disciples, are you?" He said, "I am not."18Now the slaves and the police had made a charcoal fire because it was cold, and they were standing around it and warming themselves. Peter also was standing with them and warming himself. Perhaps the other disciple was the unnamed Beloved Disciple, that some believe was John and others suggest might have been Lazarus or even Mary Magdalene or Mary of Bethany. It is intriguing to think that it might have been one of the Mary's because, having both a man and a woman gives a picture of wholeness to discipleship that the early church fully embraced. I think that is probably not the case, however, since later in the narrative, Jesus gives his mother into the care of the Beloved Disciple as her new son. Lazarus has always seemed likely to me as Jesus was so close to that family and spent so much time in their home, but we simply do not know. Peter's denial in verse 17 begins with the question from a female guard. The question is worded in a way that indicates that a negative reply is expected. Peter's answer is head-hanging poignant. He responds with the opposite of ego eimi. There is nothing of the holy in his denial.
Even God's own image becomes blurred in him here. Notice, too, that Peter is standing with the police, just as Judas did. There is a thin line between outright betrayal and denial of the relationship. They both lead to the same place.
Prayer: Dear God, Peter represents us all. In a way, so does Judas. Help us today to learn the lessons of these our faith ancestors. Protect us from ourselves and our secret betrayals and denials. In Jesus' holy name we pray. Amen.
April 30 – John 18:19-21 - 19Then the high priest questioned Jesus about his disciples and about his teaching. 20Jesus answered, "I have spoken openly to the world; I have always taught in synagogues and in the temple, where all the Jews come together. I have said nothing in secret. 21Why do you ask me? Ask those who heard what I said to them; they know what I said." 'The Jews' refers to the Jewish authorities. Jesus' defense is that he has never spoken in secret, but taught in the presence of all of them. In speaking of those who have listened to him, he uses the oida word for knowing which means to perceive absolutely. We might say, "They got it."
Prayer: Dear God, Jesus has not kept what he values a secret from us either. He has told us plainly that eternity begins now, that love is the only thing, that others are to be cherished, served and protected. Help us today to make our simple daily choices with those values in mind. In Jesus' holy name we pray. Amen.