Cambria Dinner Fellowship has been put on hold while Covid-19 is dictating social interaction.
Past topics have been:
Where Faith and Social Issues Intersect
in a social environment


Since our formation
Cambria Dinner Fellowship has hosted a series of Forums and Presentations. Our commitment has been to
seeking understanding
in a world of diversity and difference.
In the last two years that effort has been led by Dr. Donavan Ropp.
Donavan is taking a leave of absence and while he is away we are doing something new.
TABLE TALK
is about fellowship, friendship and conversation.
It is a gathering of friends, breaking bread and talking.
Meals are arranged and scheduled at the previous meeting. Conversations and topics will vary, but the constant is fellowship.


THERE IS A PLACE AT THE TABLE FOR EVERYONE

Supported by
SAFE HARBOR PRESBYTERIAN CHURCH
ESTERO BAY UNITED METHODIST CHURCH
SAINT PAUL'S EPISCOPAL CHURCH

SAFE HARBOR PRESBYTERIAN CHURCH
Sunday worship at the alternative time of 2:00 PM
Smiles and Fellowship at 3:00PM

Building a Worshiping Community in Cambria
http://safeharborcambria.org
http://www.safeharborpreschurch.com
---
---
Safe Harbor Presbyterian is a founder and supporter of CDF the Cambria Dinner Fellowship, where faith and social issues intersect in a social environment. CDF is an open and ecumenical study and action group that meets on FIRST AND THIRD TUESDAYS.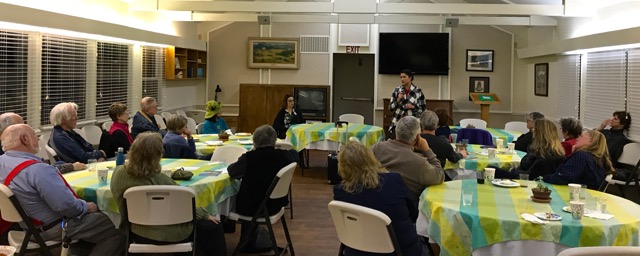 CDF offers a time of fellowship and dinner and features a weekly speaker or presenter on social, community and faith issues.
As we say There Is A Place At The Table for Everyone
In the almost two years of the Cambria Dinner Fellowship hospitality has been extended to a diverse group of organizations. We have hosted these organizations in our FORUM series. The FORUM series has been focused on Forum on Faith, the Social Issues Forum and the Community Forum.
The following organizations have participated.
SOCIAL ISSUES FORUM
SLO County Mental Health Association
SLO County NOOR Foundation
Transition Mental Health-The Prada Center
ACLU of SLO County
First Five of SLO County
Cal Poly Homeless Office-Associate Dean of Students
SLO County Homeless Program
California Men's Colony Support
Community Action Partnership of SLO County
California Grand Jury System-James Ragan
Sierra Club
Remembering RFK-Ripple of Hope Documentary-Tom Cochrun
The Story of The Victim-Dr. Steven Walker
Dealing with Conflict-Patricia Gordon
Immigration- Erica Reyes sasStaff Assistant to Congressman Salud Carbajal
Senior Citizens Issues
Gun Safety and Control-Staff Assistant to Congressman Salud Carbajal
Sanctuary City Status-State Senator Bill Monning's Assistant
Treating Mental Illness-Heidi Bizaire, National Alliance on Mental Illness
Treating Mental Illness-Stephanie Heintz, Therapist
Women's Issues-Linda Rendleman and the film Women Like Us
An Evening of Good News-Donavan Ropp and Tom Cochrun
COMMUNITY FORUM
Cambria Connections
Cambria Anonymous Neighbors
Beautify Cambria Association
Cambria Forest Committee
Friends of the Fiscalini Ranch Preserve
Friends of the Elephant Seals
Greenspace-The Cambria Land Trust
Cambria Head Start
Cambria Education Issues-Scott Ferguson
Cambria Dark Skies Certification Committee
Cambria Fire Department
Cambria Cherish House
Cambria Cherish Health Inc.
Cambria Water Issues-Tina Dickason
Infant Essentials
Homeless Animal Rescue Team (HART)
The Working Immigrants of Cambria-Ramon from Creekside
Marine Mamma Center
Coastal Discovery Center of San Simeon-NOAA
Pacific Wildlife Center
Chumash National Marine Sanctuary Project
Marine Sanctuary Board
The Cambria Beat Journalist Stephen Provost
FORUM ON FAITH
Islam on the Central Coast-Mosque of Nasreen
Beth David Jewish Congregation-Rabbi Linda Bertenthal
Seder Dinner Observed
Buddhist Temple of SLO
St Andrews Greek Orthodox Church
Sikh Temple of Bakersfield
Unitarian Universalist Community of Cambria
The Story of Dr. Victor Frankel-Dr. James Seeber
Father Brian Palmer-St Paul's Episcopal Church
Reverend Paula Hulet-Estero Bay United Methodist Church
Reverend Eugenia Gamble-Nipomo Community Presbyterian Church
LGBTQ and the Church
Chaplain Chelsea Lietcher
Advent Meditations-Rev. Paula Hulet
Yoga with Kristina Kansas